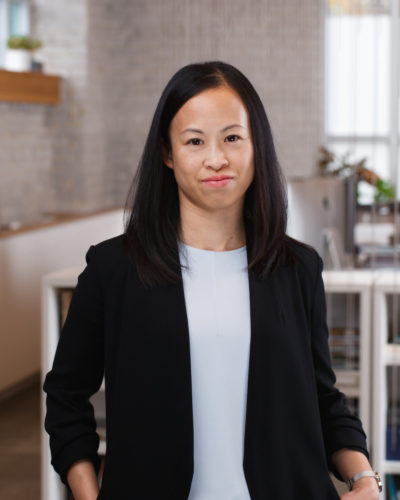 ---
Olivia Keung
B.E.S., M.Arch., OAA, MRAIC, CPHD
Associate
olivia@mtarch.com
416 925 4484 x158
Olivia Keung's passion is in sustainable design. With a strong commitment to sharing her expertise towards affecting the industry as a whole, Olivia has spoken widely at conferences on the challenges, design process and technologies used in zero carbon buildings. In her years of working at Moriyama Teshima Architects, Olivia has championed a number of most innovative and forward-thinking building projects to date.
She served as the Project Manager for the Honey Bee Research Centre (HBRC) at the University of Guelph. The HBRC embraces a holistic vision of sustainability that includes stewardship of the existing landscape and ecology, low impact design principles, a strong connection to the natural context, and all-electric systems design. Olivia was also part of the Limberlost Place project team, having coordinated the extensive regulatory sustainability requirements considered in this revolutionary, mass timber, net zero carbon emissions landmark currently under construction at George Brown College.
Olivia is revisiting a significant project in MTA's portfolio, Sudbury's Science North, as part of the planned addition to this large-scale research centre and museum the Northwest Expansion Project in Thunder Bay and Kenora. Olivia has played a key role in collaborating with the Northwest Design Collaborative, which includes both local and Indigenous partners working together through a co-design process, to ensure that this newest extension of Science North speaks to the specific identity of the northern region of the province.
Olivia played a key role in Waterfront Toronto's update of their Green Building Requirements (GBRs). MTA led the consultant team to develop and author the Version 3 update which was released in February 2021. The GBRs take a holistic approach to sustainability and form part of a larger vision to build inclusive, climate positive, urban communities that lead the city on the path to decarbonization. Olivia continually pushes herself through activism, advocacy, and meaningful participation in the AEC professional community. Distinctions which Olivia has earned include becoming a Certified Passive House designer, serving as a Member & Sustainability Advisor on the City of Toronto Design Review Panel, and becoming a Member of the Royal Architectural Institute of Canada's (RAIC) Advisory Committee for Promoting Equity and Justice.
---
Previous
Next