West Memorial Building Construction
You are looking at what is to become an exciting new architectural component within the West Memorial Building in Ottawa – an enclosed interior courtyard that will serve as a circulation & event space. This reimagined atrium will offer a beautiful arrival point, bordered by historic stone walls + naturally daylit from above.
In addition to structural upgrades, this section of the building will see stone repairs and window restoration, as well as a new skylight structure, feature stair and acoustic chandelier through this rehabilitation process.
For this project, "Regenerate 344": Moriyama & Teshima Architects + Kasian Architecture Interior Design and Planning in Joint Venture, we are very proud to be working alongside EllisDon for Public Services and Procurement Canada | Services Publics et Approvisionnement Canada (PSPC / SPAC).
More information about the West Memorial Building rehabilitation can be found here.
Stay tuned to learn more about the major advancements of this landmark project in our nation's capital!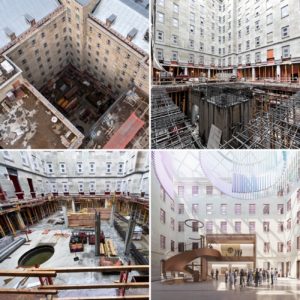 ---